Hey everyone! You all like to get crafty from time to time right? Well, now is the best time! Here are a few DIY holiday gift ideas you can try for yourself!
Picture Monogram
From
itsagingersnap.com
So here's what you need for a gift that a family member will love. Find a wooden letter, like the ones that you can find at Hobby Lobby or craftcuts.com. Also pick up some mod podge, which is an adhesive and a sealant, so it's very handy to have around for projects. The regular kind for sticking the pictures on, and the glossy type is recommended for finishing this project. You'll also need your pictures, scissors, an exacto knife, and black paint (optional). Lay the pictures out, cover them with adhesive, then stick them in place. Once dry, flip over the letter and use the exacto knife to trim off the edges of the pictures. Then apply two layers of the gloss coat (letting it dry in between), and you're done!
Chocolate Cookie Dough Peanut Butter Cups
from
howsweeteats.com
Yes, something this good actually exists. Here's a preview of what's in this chocolatey-peanutbuttery deliciousness:
2 1/2 cups milk chocolate chips
1/2 cup unsalted butter
1/3 cup packed brown sugar
1 teaspoon vanilla extract
1/4 cup creamy peanut butter
3/4 cup powdered sugar
2 tablespoons all-purpose flour
1/4 teaspoon salt
1/2 cup mini chocolate chips
Once you've gathered up everything you need for these delectable morsels of goodness, simply follow the directions laid out on
howsweeteats.com
to make them! How could anyone not like these things??
Monogrammed Hand Towel
from
marthastewart.com
This one is great because it can be personalized for anyone. Basically, you will need to get or create a stencil, so that you can lay it on top of the towel and then apply two coats of washable fabric paint with a medium sized brush, then let dry a couple of hours. Simple and elegant.
Coffee Candle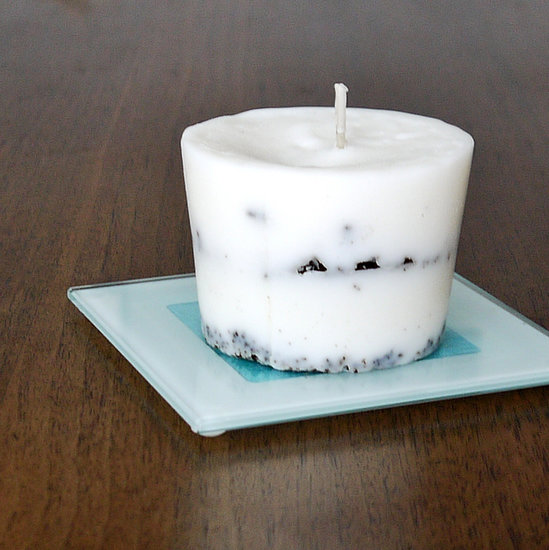 from
popsugar.com
Nothing like the smell of coffee in the morning... or evening, or whenever!
Small paper coffee cup
1 to 2 tablespoons used coffee grounds
Paper towel
1 cup wax candle remnants
Candle wick
Scissors
Small saucepan
Small metal or glass mixing bowl
Start by adding a cup of candle remnants to a small metal pan. You'll want to have a saucepan filled halfway with water, directly underneath to create a double boiler. It'll take about 5 minutes until the wax melts. Then, make sure the coffee cup is clean, and place the wick on the bottom, followed by covering the bottom with coffee grounds (after you've squeezed any moisture out of them). Pour about half of the melted wax, letting it dry for about 20 minutes. Distribute some more coffee grounds, followed by the rest of the re-melted wax. Let it dry for about an hour, and then cut away the cup to reveal the coffee candle!
Hopefully you won't have too many last-minute gifts to give this year, but now you'll have a little bit of inspiration to make your own this weekend. And hey, who doesn't appreciate a hand-made gift?